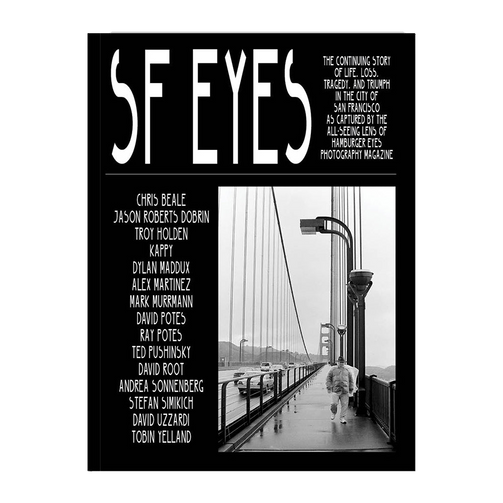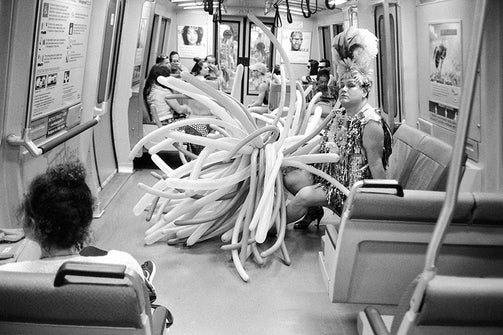 Hat & Beard Press - SF Eyes
Hat & Beard Press - SF Eyes
Regular price

Sale price

$50.00
Hardcover, 160 pages. 
8.25 x 11 in. 
20.96 x 27.94 cm. 
In 2001, Ray and David Potes began producing a black-and-white zine called Hamburger Eyes. Quickly gathering traction in the photo community, the photocopied booklets rapidly evolved into a monthly magazine. Quietly based in San Francisco's Mission District, the Hamburger Eyes Photo Epicenter boasted coverage of "the continuing story of life on earth," its maxim attracting tens of thousands of cult followers, photographers, and voyeurs from around the world. Nearly two decades later, Hamburger Eyes has produced hundreds of issues and exhibited thousands of photographs in galleries across the US, Europe, and Asia. 
As the magazine developed into a haven for lovers of analog and print, the city surrounding its production was rapidly changing. The bastion of art and activism watched as housing markets skyrocketed. Big tech—the new gold rush—had come to change the character of the streets themselves. While the magazine has always revealed an aesthetic narrative from page to page and photographers have previewed and exhibited their own projects within them, this book will be the first publication to hone the focus of its large catalog on one point, the city that helped to establish it. 
Featuring contributions from Chris Beale, Jason Roberts Dobrin, Troy Holden, Kappy, Dylan Maddux, Alex Martinez, Mark Murrmann, David and Ray Potes, Ted Pushinsky, David Root, Andrea Sonnenberg, Stefan Simikich, David Uzzardi, Tobin Yelland, and many more, Hat & Beard Press brings to you SF Eyes: The Continuing Story of Life, Loss, Tragedy, and Triumph in the City of San Francisco as Captured by the All-Seeing Lens of Hamburger Eyes Photography Magazine. This installment in the Hamburger Eyes canon chronicles San Francisco life and culture—what it is, what it was, and why it matters—from the beginning of the turn of the new century.
+++
Check out the companion Hamburger Eyes documentary, produced by Hat & Beard Films with Mailchimp, directed by Aaron Rose with an original film score by Money Mark here. 

Edited by Clark Allen and Ray Potes. 
Designed by Clark Allen. 
Couldn't load pickup availability